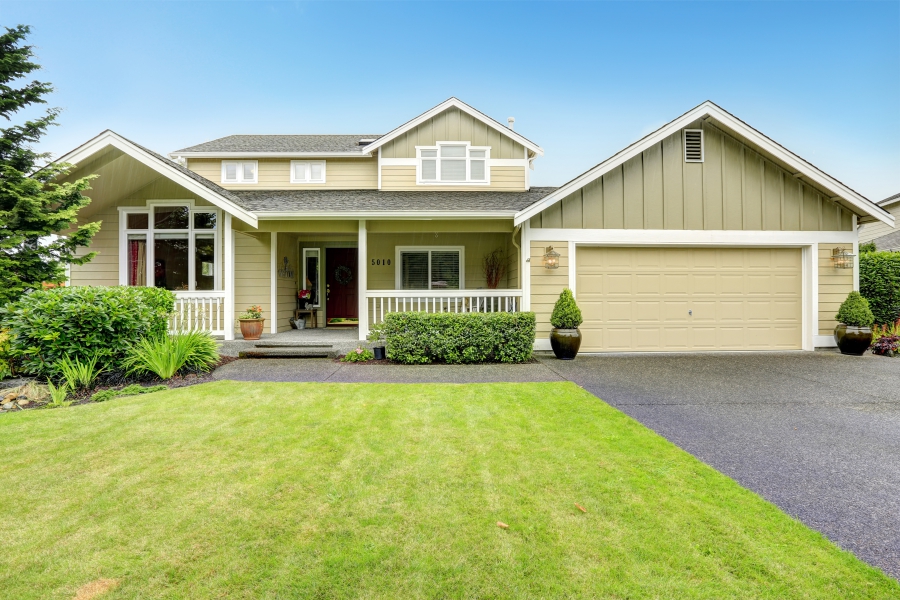 Here at Falcon Exteriors, we offer full siding services, including installation, repair, and replacement. Are you considering replacing the siding on your Peachtree City or Atlanta area home? Keep reading to learn about the advantages and disadvantages of each of the siding options in which our siding contractors specialize.
Your Falcon Siding Options
Hardie Board Siding
This siding option is cement board siding, providing homeowners with long-lasting protection for the exteriors of their houses. Hardie Board is available in a variety of textures and colors, making it an extremely customizable siding option in addition to its longevity. This option resists damage from insects, rot, and even salt water. Because Hardie board is made of a mixture of sand and cement, it is extremely weather and fire resistant, making it an ideal option for homes in storm-prone areas.
Hardie board weighs a significant amount when compared to more traditional vinyl siding, so it is both more expensive and more labor-intensive to install. Hardie board will also need to be repainted after a time in order to preserve its integrity.  
Vinyl Siding
Made from a strong plastic material, Vinyl siding is one of the most commonly used siding options due to its inexpensive cost and relatively simple installation. Like Hardie board, vinyl siding is available in a variety of styles and colors, making it a great option for homeowners who want to mimic the look of another product in order to save some money. Vinyl siding is resistant to weather, insects, color fading, and it is very difficult to crack.
This siding option will fade over time, and it is susceptible to moisture problems, such as mold. Although vinyl siding is a strong option, it can be bent and cracked in extreme weather, and extreme temperatures can sometimes have negative effects, such as brittleness in extreme cold and warping in extreme heat.  
Aluminum Siding
Made from aluminum coil stock with a series of protective and aesthetic layers, aluminum siding is a lightweight, durable option. Rust-proof, fireproof, and waterproof, aluminum siding is a great option for homeowners looking for an affordable but durable exterior home material. This option won't rot, is recyclable, and can be manufactured to mimic a wide variety of other siding materials.  
Because aluminum is fairly malleable, it can dent quite easily, and although it cannot rust, it may corrode over time. Repainting aluminum siding is typically a project, often requiring the removal of all other paint before the new paint can be applied. Some homeowners dislike aluminum siding because of the noise; rain hitting aluminum is much louder than rain hitting vinyl.
Metal (Steel) Siding
Steel siding is another metal siding option available to you. It is both extremely strong and extremely durable. Steel is a harder metal than aluminum, so it is more much more resistant to denting. Metal siding is not maintenance-free, but you will likely not need to repaint it as often as other siding options. Finally, steel siding is made from recycled materials, and it can be painted whatever color the homeowner prefers.  
Unlike aluminum, steel can rust over time. It is also heavier than aluminum, requiring more intensive labor to install and a larger initial investment. Because of its susceptibility to rust, metal siding must be especially well-maintained when installed in coastal regions.   
Keep researching, or contact the siding contractors at Falcon Exteriors to find the perfect siding option for you. If you'd like our professional opinion on which option will be ideal for your home, please don't hesitate to contact us for a free consultation and cost estimate.