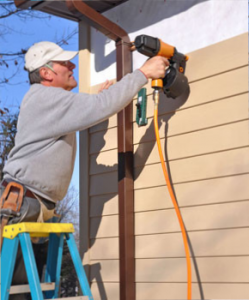 A benefit of owning your own home is the equity that the property will gain over time. Completing home improvement projects will help increase the value of your home which can benefit you if you ever get an appraisal done to remove the additional insurance from your mortgage or simply want to sell for the best price possible. There are certain projects that have a substantially high return on investment (ROI), while others, like adding additional bathrooms, can have a much lower ROI. When it comes to your home consider these exterior improvements for a good return on investment.
Updated Siding
Updating the siding on your home has one of the highest ranked ROIs for any home improvement project. Whether you choose vinyl siding or fiber cement siding, you're going to be getting a great deal. Vinyl siding is the initially cheaper option and does have about an 63 percent ROI. It's durable and low-maintenance, while still looking great. However, most buyers prefer to see fiber cement siding on a home because of the better quality. The initial install can be a bit pricey but the ROI is high at 76 percent according to the 2019 Remodeling Impact Report. Either option will help protect your home for a long time to come.
Add a New Roof
Replacing an outdated or damaged roof can also add value to your home. Not only are you protecting your home from the elements, you're also improving the curb appeal. This will help your home stand out when compared to others with older roofs for a quicker bid if you sell, and it also will provide you with a 75 percent ROI according to CNBC.
Contact Falcon Exteriors today for more information about how to invest in your home and improve your exteriors!