Here in the Peachtree City and Atlanta areas, we're no strangers to storms and the rains, high winds, hail, and other destructive forces they bring with them. If your home has recently been exposed Mother Nature's violent side, be sure to check your roof for possible damage.
Why should I check for roof damage after a storm?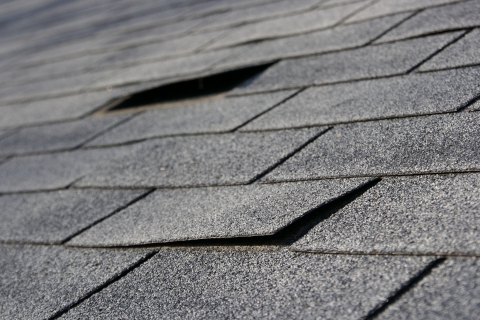 It may seem inconvenient to check for damage to your roof every single time there's a storm, but doing so can save you a lot of heartache and a lot of money in the long run. Checking for damage could alert you to a leak problem before it becomes a costly repair, and identifying broken or missing shingles early can prevent extremely costly replacements. The simplest way to put it is this: checking your roof for damage after a storm will save you money in the long run.
How do I look for roof damage?
Walk the Perimeter
Walk around your home, and look at your roof. Do you notice any shingles that are dented, broken, curled, or missing? Hail is known to leave dents in asphalt shingles, which degrades the granules' protection. While walking the perimeter of your home, you'll also keep an eye out for fallen branches or broken fence posts, as these types of things can indicate the sort of damage your roof may have sustained.
Check Your Gutters
One indication of roof damage can build up in your gutters during storms. Check your gutters for granules from your asphalt shingles, as these are a sign of degranulation. If your shingle degranulation gets bad enough, your roof will no longer be able to offer the proper protection, and it will need to be replaced.
Check Your Attic
If your roof was damaged during a storm, it may have leaks. To catch leaks early, inspect your attic after storms to check for signs of moisture. If you notice staining, get a professional opinion as soon as possible, as your roof will likely need repaired or replaced.
Would you prefer to have your roof inspected for damage by a professional? Contact the roofing contractors at Falcon Exteriors.