Location: Tyrone, GA
Renovations: Roofing, Siding, Gutters, Exterior Paint, Column Replacement
A Gorgeous Home Exterior Makeover
Based on a referral and pictures on Falcon Exteriors website, Mr. and Mrs. Reinen, of Tyrone, GA contacted us to find solutions for their home's roofing, gutters, and siding. They expressed the desire for an entire home exterior makeover.
Falcon Exterior's project manager listened to clarify the project's scope, and carefully examined the current condition of the Reinens' home exterior.
Stunning Installation Results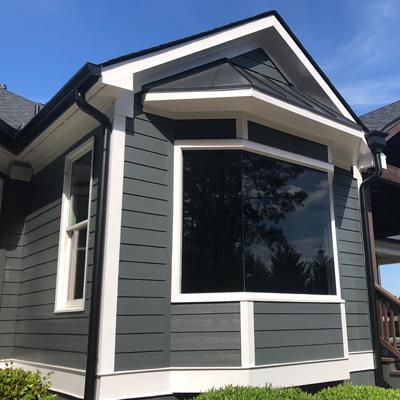 Roofing
Problem: Older roof in need of an upgrade
Solutions: CertainTeed roof replacement and Standing Seam Metal Roofing installed over the bay window for visual interest
Results: New roofing refreshed the home's overall look and provided optimal protection. Metal roofing created a modern design statement.
Siding
Problem: Water damaged stucco siding
Solution: James Hardie siding replacement
Results: The durable, water resistant James Hardie Board and Batten look gave the home eye-catching curb appeal and optimal protection.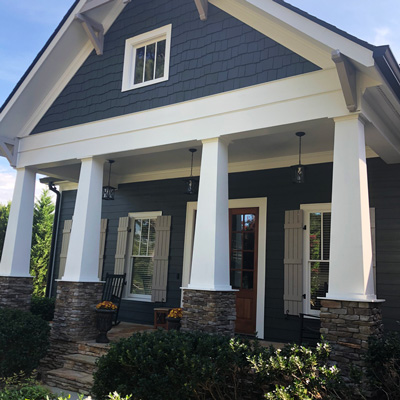 Gutters
Problem: 5" gutters
Solution: 6" gutter replacements
Results: The 6" gutters created greater foundation protection, better drainage, and decreased the possibility of siding stains.
Exterior Paint
Problem: New siding needed paint
Solution: Sherwin Williams exterior paint
Results: A fresh, finished home exterior resulted.
Columns
Problem: Columns were damaged due to wood rot
Solution: Old wood columns were removed and replaced with stone veneer columns
Results: Durable stone veneer columns look fabulous and will withstand the elements.
What Can a Home Exterior Makeover Do for You?
Perhaps you're like the Reinens, and there are several elements that need upgrading on your home exterior. Picture yourself with the solutions; imagine enjoying your own home makeover.
The Reinens love the finished product of their home exterior makeover. They appreciate the thoroughness of the inspection during the initial consultation, which uncovered unseen damage that needed repairing. Getting the work started and completed went smoother than they anticipated; and Falcon Exteriors' fluid communication kept them in the loop at each phase of the makeover.
Falcon Exteriors, a Sherwin Williams painting contractor, painted the home a completely different color, and it's beautiful! The Reinens are enjoying their gorgeous home!