Quality Siding Services for Your Home in Sandy Springs
Every homeowner wants to love their home and feel confident that their house's siding is shielding their loved ones from Georgia's harsh weather and pesky insects. When you notice that your home's siding is worn and weathered, you might begin to feel worried about its structural integrity.
Falcon Exteriors is proud to bring our unmatched workmanship to homeowners in Sandy Springs who need expert siding installation services. We offer our expertise in siding materials and installation so you can rejuvenate your home and feel confident in it once more.
Eye-Catching Siding in an Array of Materials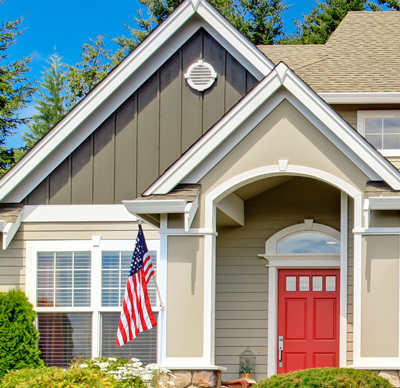 Whether you're looking to restore your historic home or update and modernize your house, we have low-maintenance siding options that protect your home from moisture and pests.
Say goodbye to deteriorating, dingy siding forever with the right materials to meet your needs, including:
We'll guide you to the right choices to match the final result you've envisioned for your home's exterior transformation.
"We could not be more pleased with the work done by Falcon Exteriors. This was our 3rd project with them. They are professional but more importantly, they provide quality work at a fair price. The work was done efficiently and they left our property in perfect condition when they were finished."
Enjoy All the Benefits New Siding Offers
We take your home's outermost protective layer very seriously, which is why we only use first-rate replacement siding materials, including the industry favorite, James Hardie fiber cement siding.
Falcon Exteriors is a James Hardie Siding Preferred Contractor. We're certified in the proper installation methods to protect your siding investment and keep your warranty intact.
Why do we love James Hardie siding?
It's sturdy
It's long-lasting
It's fade-resistant
It's fire-resistant
It's low maintenance
It's energy-efficient
Plus, Hardie siding comes in an unbelievable array of colors and styles to match every homeowner's style.
Reliable Siding Replacement for Your Sandy Springs Home
Sandy Springs is undeniably one of the best places to live in the entire state of Georgia. It's the perfect combination of city and suburban life. You shouldn't have to leave your perfect Sandy Springs location just because your home is in desperate need of new siding.
At Falcon Exteriors, we'll walk you through the entire siding installation replacement process so you can love coming home again. We understand worrying about maintenance, upkeep, and failing siding, and we want to help restore your home to its former glory!
We've helped hundreds of homeowners in Sandy Springs and beyond with whole-house exterior transformation, and we're standing by, ready to help you. Request a free consultation today!