Reliable Roofing Services For Your Tyrone, GA Home
Your roof is crucial to keeping your house protected from the elements, but when time, neglect, or bad workmanship from a previous installation puts your roof in jeopardy, it leaves your whole home vulnerable.
You need a roofing contractor with experience in roof repair and roof replacements. At Falcon Exteriors, our experienced contractors are committed to offering exceptional roofing services to give every homeowner an appealing, secure roof. We'll keep your home safe and dry with meticulous attention to detail and unbeatable methods.
Strengthen Your Roof and Boost Your Curb Appeal
Roof damage can develop into costly, widespread structural issues, and a deteriorating, faded, or crumbling roof can make your entire home look like an eyesore. We'll refresh your home and fortify its first line of defense with our wide array of roofing services.
Is your roof displaying signs of damage or decay? Here are a few telltale signs that your roof needs repair or replacement:
Your roof is 20 to 25 years old (or more)
Your roof's shingles are cracked, buckled, or show signs of damage
You find asphalt shingles collecting in your gutters and downspouts
Your roof's flashing is cracked or broken around vents, skylights, or chimneys
Your roof appears to droop or sag
"Falcon Exteriors is a reliable local family-run contractor who we used to contract our complete re-roofing. They will be there to see you through your project. I feel like they will be there for us if there are any issues that pop up. The rep even took it upon himself to correct and take care of an issue with our gutters, which were not replaced but re-attached. I would gladly recommend them to others."
CertainTeed: Top-of-the-Line Roofing Materials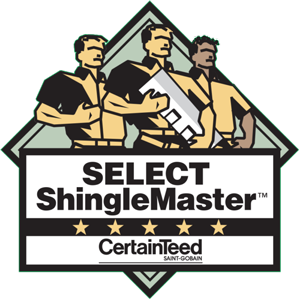 At Falcon Exteriors, we believe that the best products foster the best results. For this reason, we use CertainTeed roofing products, which offer enduring performance and impeccable style. With CertainTeed roofing materials, our clients get to choose from beautiful color and texture pairings that last for decades.
With asphalt and metal roofing options and over 300 different styles from which to choose, a CertainTeed roof will protect your home from the elements and enhance your home exterior with a fresh, updated look that complements any house style in Tyrone.
Why choose CertainTeed roofing materials installed by our Falcon Exteriors team?
Enjoy industry-leading, durable, high-performance roofing materials
Get expert installation from a CertainTeed Select Shinglemaster
Trust we'll keep a clean, safe worksite that's debris-free and well-maintained
Tyrone's Preferred Roofing Contractors
Tyrone has been ranked the happiest city in all of Georgia, and we intend to keep it that way with masterful roof repair and replacements to give Tyrone's residents peace of mind about the roofs over their heads.
See why we're the premier roofing company for Tyrone and beyond. Get a free consultation today!